Zach is a chalk artist who was first introduced to chalking through his wife, Jessi Queen, at the 2011 SCAD Sidewalk Arts Festival. He spent the next four years working side by side with Jessi with her street paintings, focusing primarily on color blocking and obsessive straight edges. Zach and Jessi have been chalking together annually at the Bragg Jam music festival since 2012.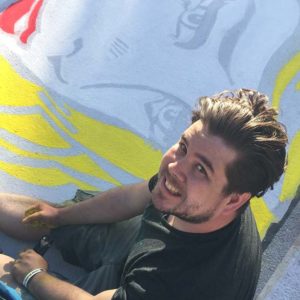 Zach co-founded the Georgia Chalk Artists Guild with Jessi Queen and Katie Bush in 2014. The organization has since grown to over 40 members and partners with festivals throughout Georgia to bring chalk art to various corners of the state. He's passionate about engaging festival patrons and including them in the process; he created the Pop-Up chalk festival to help explore ways of bringing chalk to communities.
In 2015, Zach and Jessi shared a chalk piece at the Gwinnett Arts Fest and won First Place and People's Choice Award. Later that year Zach chalked solo for the first time at the Sarasota International Chalk Festival. His crisp line-work and attention to detail lent itself to the success of a still life work by Roy Lichtenstein. In 2016, he participated in the Lake Worth Street Painting Festival and developed his own method for chalking Lichtenstein's famous ben-day dots.
He has travelled to festivals across the south east including GA, FL, KY, MN, TN, TX. In 2016, he and his wife Jessi participated in street art festivals in Italy and Germany.
Zach continues to do freelance chalk work and has many appearances scheduled for chalk festivals in 2017 including the Houston Via Colori chalk festival in November.