Our members give back throughout the year by volunteering their time to engage the chalk community. It is our mission to educate and share chalk as an art medium and introduce children and adults to the drawing process. Some ways we fulfill this mission include volunteering at local schools, leading workshops and demos, assisting chalk festival organizers with logistics and supplies, connecting talented artists with chalk mural jobs, and much, much more.
We volunteer with the largest international festival in GA, Chalktoberfest, every year. At Chalktoberfest we help supply artists with items such as paint, chalk, rulers, tape and any additional materials they may need. These artists travel from as far away as Mexico, Italy, Ukraine, and Netherlands and it is cumbersome to carry many art supplies on their flights. These supplies are an essential part of creating great chalk murals. The Marietta Cobb Mueum of art provided black and white tempera paint which serves as a base on the street before the chalking begins. The Florida Chalk Art Association also contributed to other art supplies and colors of paint. As well as coordinating supplies, our local artist Jessi Queen helped organize transportation to and from the airport and arranged a welcome Thursday night dinner. Zach Herndon joined Jessi and assisted with set up on Friday, and they both supported the festival in any way we could.
This is a great partnership and opportunity to share art with Georgia communities around the Atlanta and Marietta areas. During this event, some of our members were invited to participate as featured artists and each chalked large 10ft x 10ft squares from Friday to Sunday. You can read all about Chalktoberfest in previous years here. This year we had a tent set up on the square to share what our group does and allow our artists to promote themselves in a location where patrons already have a vested interest in the chalk medium.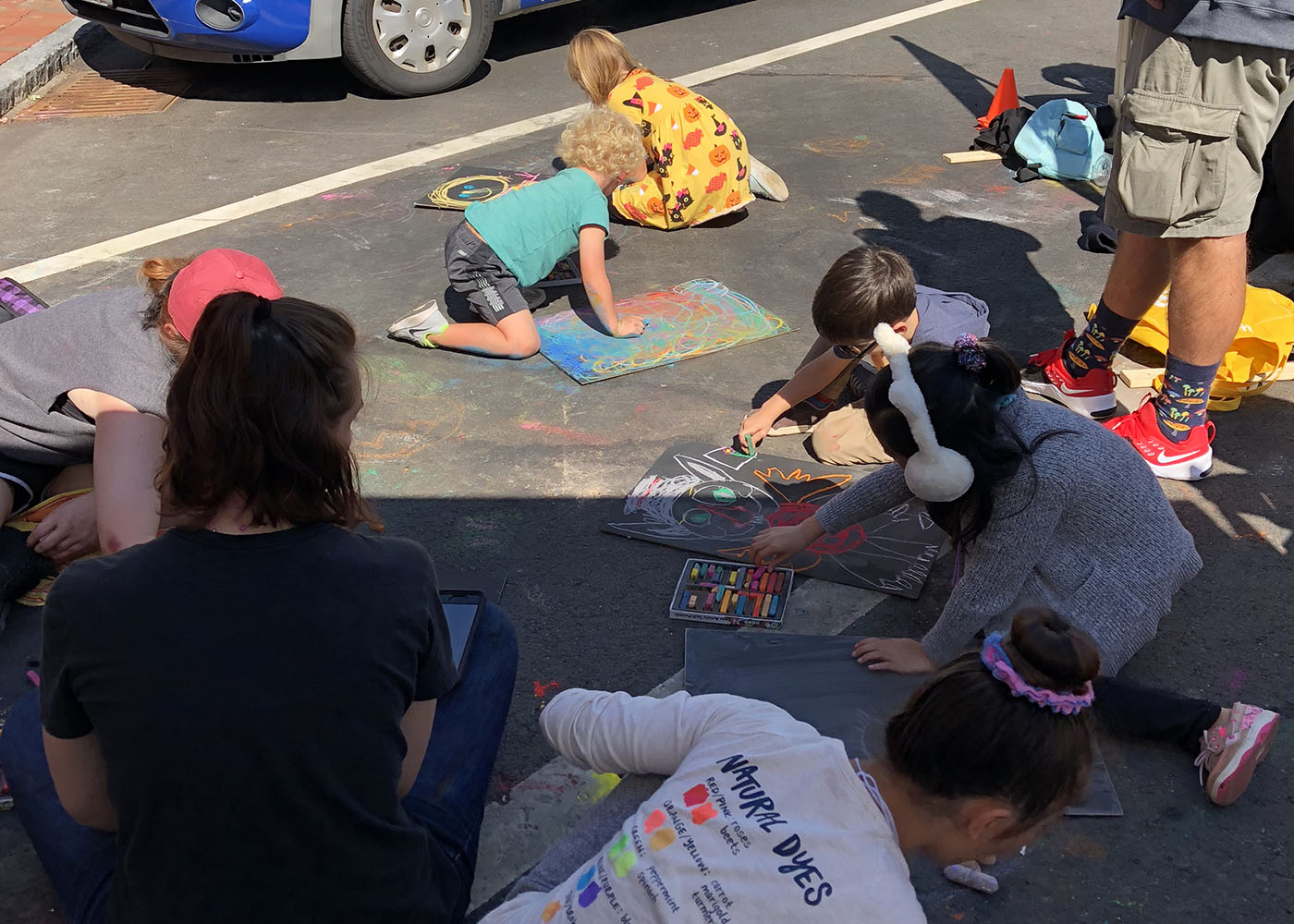 Many families with children attended and were influenced by the amazing art all around the square. We shared our small chalkboards for them to get a taste of what it is like to chalk in the festival environment. Throughout the weekend the chalkboards were very popular; children and adults alike created some amazing drawings. Donations were accepted to cover the chalk supplies and as a fundraiser for the year. We were amazed at everyone's generosity and excitement for what we do. Our mission was fulfilled over the weekend and our members worked very hard ensuring every family who walked up had the opportunity to chalk. Thank you to everyone that helped represent the GA Chalk Artists Guild at our tent; special thanks to especially to James Wheeler, Cathryn Bozone, Meg Mitchell, Heather Cap, MonkPanda, Adam Dunlap, Brittany Williams, Chelsey Austin, and Fawne DeRosia for their time and dedication. It is heartwarming to see the community give back in this way and we thank you all!
Below are photos of most of the chalk drawings that were created by you, the community, at Chalktoberfest.
[unitegallery chalktoberfest_chalkboards_2018]