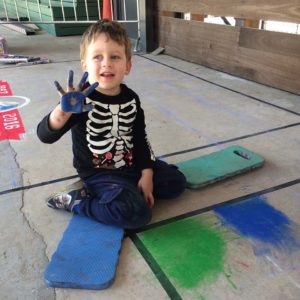 As an initiative to spread the word about chalk art in the community our member artists participate in many kinds of events. Our founder Jessi Queen was contacted by the Atlanta Braves and immediately saw it as an opportunity for GACAG. The Braves are playing their final season at Turner field this year and hosted an event at Ponce City Market to promote the last opening day. There were many fun activities such as face painting, corn-hole, photo booth, marching band and more.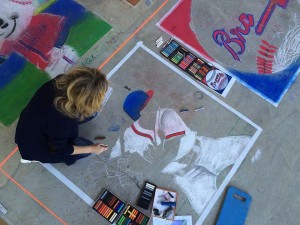 Our members Katie, Zach and Adam were also thrilled to take part in the festivities. We were asked to host a children's chalking workshop as well as create two featured artist pieces. It was a great way to honor the Braves and get the community involved.
As well as the community workshop, Katie and Jessi each created a large chalk mural dedicated to Turner Field and some amazing players in the teams history.
---
Can you guess which players were drawn?
View the full gallery and see all the fun of chalking with the Atlanta Braves at Ponce City Market! Would you like to have a chalk workshop or demo at your event? Please contact us to learn more.
[unitegallery braves1]