The Bloom'n Chalk Festival came and we were excited to get our chalk on. This year a handful our artist members made their way to Safety Harbor to show them how it's done. Katie, Jessi, Adam, and Zach drove down from Atlanta, while Lisa drove down from Raleigh, and Chad and Shane visited from nearby.
Once everyone had arrived in Safety Harbor, we checked in at the guest house Casa Loco at Whimzey House to drop off our things. Casa Loco was awesome. The exterior was surrounded by art and our introduction to the interior was met with wide eyes. If you haven't visited the Casa Loco, you should stay a night because just driving past it to check it out doesn't match seeing all the neat architecture and decorations on the inside. Our founder Katie Bush was even so inspired that she wrote a book about it 1206 Third Street. Once we'd settled in we made our way to downtown Safety Harbor to find Bobbie and Stacie.
After checking in with the organizers, we walked around and introduced ourselves to other artists as well as scoped out places to
chalk. While we searched for a spot we noticed that the weather probably wasn't going to cooperate with the festival. The four of us decided to wait to setup to start chalking due to the weather forecast as well as the growing crowd around town. The Friday we arrived another festival was in full swing, the Safety Harbor's 3rd Friday Music Series. We were concerned that pedestrians might walk through our squares so even though we'd picked them out we left them blank until Saturday.
There was an artist gathering Friday night which was great. We ran into many other artists we had chalked with in Marietta. The night ended rather early though because we were so exhausted from the drive down.
Saturday arrived and the rain had come overnight as well although it wasn't too wet. We were able to get tempera paint down on the sidewalk and begin our grids. Katie and Jessi were able to even start drawing but then the rain came back. We covered our pieces but the water pooled up pretty badly in our section of sidewalk. Note to self, when chalking on sidewalk try to imaging where the water will run so you don't end up in a pool of water.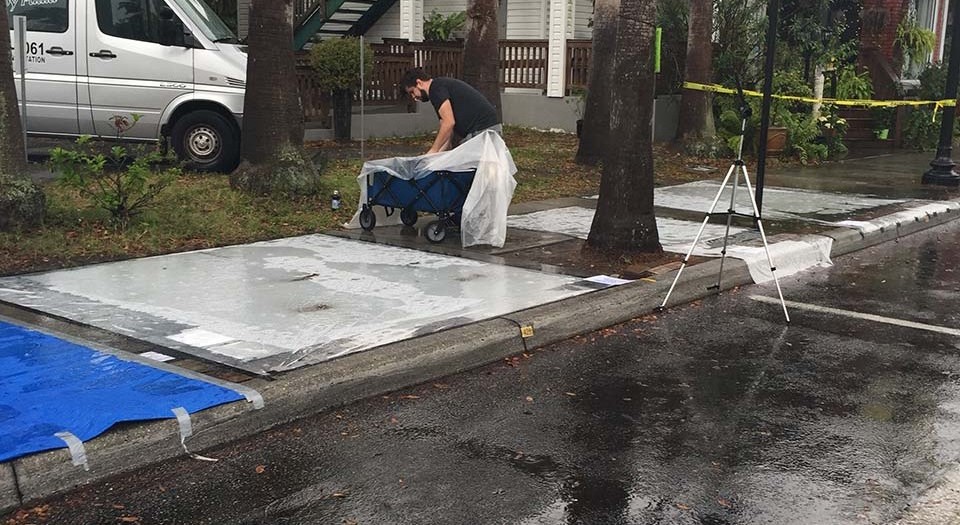 While Jessi didn't experience much damage in the way of water, Zach's tarp had included some inlaid brick which acted as a backdoor for water to get under the tarp. Once the rain abated Zach adjusted the height of his piece so that later covering of work wouldn't include the bricks. Sadly Chad lost his work due to the rain which was unfortunate. During the rain Zach and Adam went out to get more supplies should the rain return.
Once the rain was done we were really able to get to work. The mood changed from disappointment to quiet intensity to get work done. The day remained overcast which was nice since the sun never got a chance to flex. We worked with our tarps handy in the event that more rain would come. The atmosphere was very chill and there were vendors everywhere.
Saturday ended with everyone covering their pieces and scattering to the wind. Sunday came on fast and we made it out by sunrise to get started. There was a lot of time to make up from the rain on Saturday. Adam found his rhythm and pulled off an awesome rendition of Rachel Ruysch's Flower Stil-Life. The works around the festival were also stunning. There were quite a few 3D works as well. Despite the lost time due to rain, Katie was able to complete two works; a 3D snail, which she worked on with Heather, and her aquatic lady.
The end of the day Sunday also came with an awards ceremony. Everyone was helping on Jessi's head-dressed lady to get it complete and when it was time to congregate with the other artists it was looking good. There were five categories to compete in and while we didn't take home any prizes from the festival, I still think we did the best for all the artists that drove down from GA (which was just us). After the awards it was time to go so we made our goodbyes and hit the road.
The drive home was a lot of fun, we visited baby gators!
---
---
[unitegallery bloomn_2016]